Ktech Tech- 5 Stabilizer, Black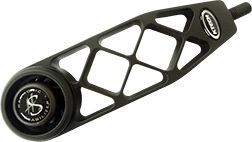 Ktech Tech- 5 Stabilizer, Black
• Extremely versatile.
• Tech series offerings are available in a litany of sizes from Tech 1 to the Tech 12.
• CNC-machined 6061-T6 aluminum and all utilize the vibration dampening technologies found in Mathews stabilizers.
• Tech 5 stabilizer: 6.4 oz with Harmonic Stabilizer: 4.0 oz with Harmonic Dampers-overall length is 5.6".
• Each port is machined with 3 grooves to allow for custom damper configurations.

Reviews