1940-1964 Era. Case XX 5265 SAB 2 bladed Red Stag Handle Hunter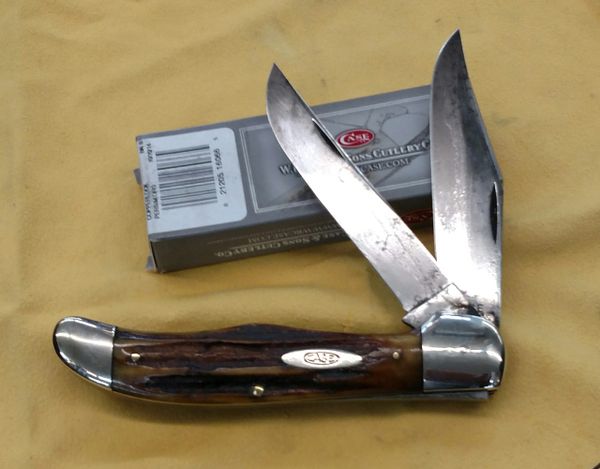 1940-1964 Era. Case XX 5265 SAB 2 bladed Red Stag Handle Hunter
A vintage Case pocket knife from a private collection.
Valued at $1100 Mint in the Pocket Knife Traders Guide Vol. 9
This would grade Near Mint puts value at about $850
Made in:  Bradford, PA  USA
When:  1940-64
Pattern:  5265 SAB  (2 blade Folding Hunter) Red Stag
Length Closed:  5 1/4"
Handles: Red Stag
Blades: 
 Chrome Vanadium Steel
Condition: 
 Never used Sent to Case for them to clean.  Blades show patina from age
Near Mint Condition, No cracks or chips in the handles, no wobble or looseness in the blades.  Excellent snap.
blades could be buffed out but it would ruin the integrity of the knife
Reviews